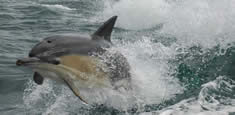 THE BEST FOR...WILDLIFE... ISLAND SIGHTSEEING...and... JUST A FANTASTIC BOAT TRIP!
CURRENT WILDLIFE - More great sightings!!
Minke Whales.. Puffins.. Dolphins.. Eagles... etc
It is still peak wildlife period for our AquaXplore wildlife trips out to the Isles of Canna, Soay and Rum (Trip 4) and our regular sightings of Dolphins and Minke Whales have continued daily. The ever popular Puffins are still to be seen at Canna although numbers for all the birds are now starting to drop as the nesting season nears its end. Sea Eagles / Golden Eagles are also to be seen on most trips to Canna/Rum.
See the latest photos on our facebook page. 26th July 2014
In the main wildlife months our trips see regular sightings of Dolphins, Minke whales, and Basking sharks. We see Puffins and many other seabirds on all our trips between May and July, and most AquaXplore trips throughout the season include Sea Eagles and Golden Eagles, together with Grey and Common seals. Occasionally we are fortunate to see more exotic creatures - such as Sunfish , Sperm Whales or even Orca/killer whales!
Dont forget - to give you the best experience possible our half day tours are unique in covering a distance of 35 to 40 miles so you get the best chance to encounter a great range of wildlife!
...Please see our guestbook comments to get an idea of what you can see...
For information and bookings:
Call: 01471 866244 or 0800 731 3089
For email please go to Contact us page